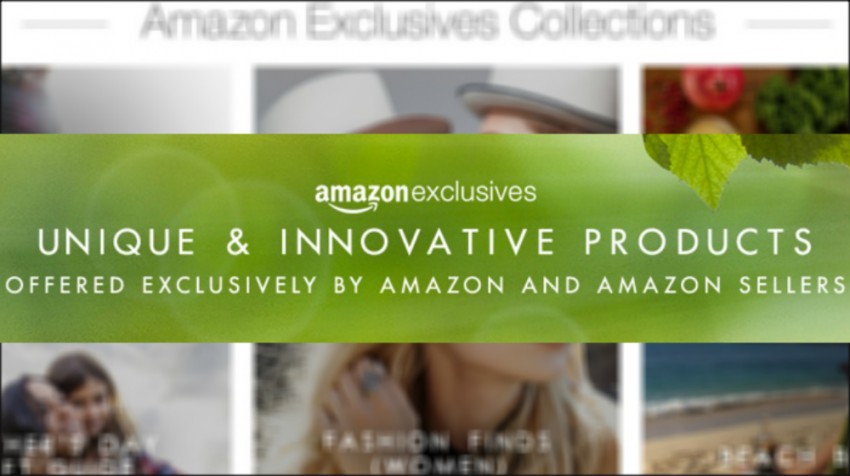 19 May

Have You Heard Of Amazon Exclusives?

In just over a year since its inception the Amazon Exclusives line has already led to more than $50 million in sales. This platform was originally launched with 5 sellers and now boasts 20,000 products from 135 sellers in the U.S. and 55 in Europe. For buyers, this marketplace has become a draw, a place to find innovative products that only the Amazon clientele are privy to. For sellers, Amazon Exclusives is an opportunity to shine in Amazon's spotlight and to gain access to its millions of customers.

 Are YOU Eligible for Amazon Exclusives?

Amazon Exclusives showcases products that can only be purchased on Amazon–but these aren't just any products. The site is curated to feature products that are innovative, evolutionary, or public-relations worthy. Products that are revolutionary, not seen before, are integral to this new Amazon initiative. Amazon is also looking to showcase products that are evolutionary–products that have shown demonstrable improvement. Finally, Amazon is interested in spotlighting products that are compelling within a public relations context; these products might be associated with celebrity endorsement or a charitable cause. If your product falls into any of these categories, you should consider the benefits of selling on Amazon Exclusives.

What You Get!

In exchange for exclusivity Amazon Exclusives provides the seller with a myriad of benefits. Sellers can take advantage of applicable Vendor tools such as A+ content, videos on their detail pages, subscribe and save, inclusion in email campaigns, and alignment with Amazon Affiliates, to further grow their business. The Amazon Exclusives team works hand in hand with the seller to create strategic plans to enhance their products and boost sales all while protecting their brand. Lightening deals, email blasts and strategic product placements are all part of the customized marketing strategies put in place to draw traffic. Most of the sellers and products featured on Amazon Exclusives are enjoying "life-changing" exposure that is resulting in sales increases and increase brand recognition.

What You Give!

All the bells and whistles do come with a cost, but nothing deemed too high for the level of success they can bring. For a mere additional 5% to ensure sweat equity, the seller gains access to features associated with Vendor Central. This means that a 20% fee applies across the board to all products, however so do the benefits.

To reap the rewards items must be prime eligible and as previously discussed, exclusive to Amazon. Amazon Exclusives looks for brand-level, or line-level exclusivity to avoid any conflicts of interest. In this case exclusive means that the seller is the only one selling it on Amazon, on their website, or in their own brick-and-mortar in the US. The products up for the Exclusives venue cannot be accessible through any other third party to remain eligible.

Being part of a curated store of products under the Amazon umbrella is a way for companies to establish a point of differentiation, which is increasingly important to e-commerce sellers. With Amazon Exclusives, there is no need for customers to shop around for the best price because they're not going to find that product elsewhere. Getting around pricing fluctuations is just another benefit of selling on Amazon Exclusives.

Joining forces is done on an at will basis, but sellers must be willing to invest sufficient time for merchandising team efforts to take effect and sales to convert, ensuring that neither side wastes energy or resources.

So Now What?

If you believe that a 1300% increase in traffic could increase sales for your product, you should check out Amazon Exclusives It's true that not all products are a good fit for Amazon Exclusives. On the other hand, if your product is a match, it's well worth considering an application to the platform. The increased exposure and lucrative potential is attracting throngs of interested sellers. It doesn't take much to visit the site, learn more about its terms, and fill out an application. It could be the business opportunity you've been waiting for, and it could be the platform your product needs to achieve the notice it deserves.

We work side by side with Amazon Exclusives to launch campaigns for our eligible clients. We would love to discuss the possibilities with you. Set up your brand consultation today!

You can also take a look at their site for more information or to apply.